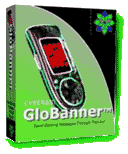 GloBanner™ displays full-size color text that scrolls across the backlit screen of your Nokia™ Series 60™ mobile phone.
It's great for flirting or sending messages in a dark nightclub, where GloBanner is visible for 15 meters (50 feet) or more!
GloBanner provides menus in English, French, German, Spanish, and Simplified Chinese. Because GloBanner uses your phone's built-in fonts and text entry, it can display messages using the full character set of the phone, including European characters, regardless of the menu language
GloBanner messages can be up to 40 characters. Choose from a variety of colors and fonts to give your message that personal touch. Press the scroll button to display your message, or select repeating mode from the menu for continuous fun!
Messages scroll from right to left beginning with their first character, at a rate of about 3 characters per second
GloBanner includes a bonus colored torch light on the Tools menu, in case you need a steady light to find your car keys at night.
GloBanner is delivered as a .SIS file, which you can transfer to your phone via Bluetooth, IrDA, or a data cable.