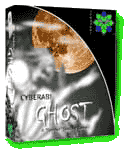 Match wits with the ghosts of Craventon (US Edition) or Wraithford (UK Edition) in this classic word game with a Halloween twist!
Avoid completing the word, and try to force the ghost to complete it. The first player to complete 5 words is a GHOST and loses the game!
GHOST features three ghostly AI levels and an amazing 10,000+ word English dictionary for hours of entertainment.
It's a fun way to build your vocabulary and spelling skills, or just to pass the time!
100% pure Java 2 mobile technology, with no special APIs or color dependencies, means you can play GHOST on any brand (color or monochrome) J2ME-enabled phone with 200K or more of heap memory and an alpha or numeric keypad, including Nokia Series 40, Series 60, and the Motorola i85 and T720.
The 60K download is just right for over-the-air (OTA) delivery.
Try GHOST today! It's about as much fun as you can have with a dictionary and Java.